After winning the 1st One Day International against the English team, the Indian team was very confident with their line-up. However, some great display of aggressive batting by Stokes and Bairstow turned the tables completely. The duo made an absolute mockery of the chase which seemed like a mountain of runs after India's innings was over.
Probably the biggest reason behind India losing the game was the absence of an extra bowling option as both spinners including the likes of Krunal Pandya and Kuldeep Yadav leaked runs at an economy rate of 12 and 8.4, respectively.
Although all-rounder Hardik Pandya was included in the squad, he didn't bowl even a single over and the same raised a lot of eyebrows in the cricket fraternity. Interestingly, Hardik bowled 3-4 overs in almost every game of the just-concluded T20I series against the same opponents.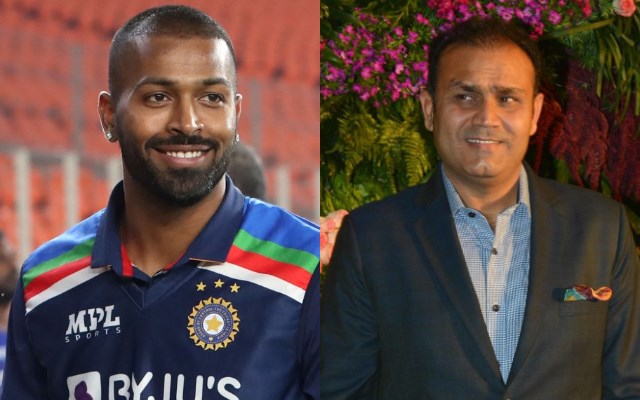 Former Indian opener Virender Sehwag could not understand the logic behind Hardik bowling in the T20s but not the ODIs when it was the need of the hour.
When Indian skipper Virat Kohli was asked the reason behind not given the ball to Hardik he had said during the post-match presentation,
"We need to manage his (Hardik) body. Need to understand where we need this skill set. Did utilize him in the T20Is but in the ODIs, it's about managing his workload. We have Test cricket in England coming up too. So it's important for us to have him fit."
Here is what Sehwag said in the CricBuzz panel:
"We only have the IPL next. So you are saying that we have no problem losing the ODI series because we had to manage Hardik Pandya's workload. If his workload doesn't include 4-5 overs then it's wrong. But it also shouldn't be the case that he isn't bowling even a single over. Fielding for 50 overs also causes fatigue. So if he adds 4-5 overs to it, it shouldn't make a huge difference on his workload.

"I don't know who decides that Hardik Pandya's workload has become excessive. Since he has come back from his [back] surgery, he hasn't played much cricket. He sat out in the Tests, played the 5 T20Is, and bowled in 2-3 of those… so he hasn't taken any load yet. But yes, this is a possibility that he himself might have asked for a break from bowling in the ODIs to prevent any injuries before the IPL,"