Former Bangladesh skipper Mushfiqur Rahim has once again fallen into an unwanted controversy as he was seen really aggressive with his fairly young teammate Nasum Ahmed. The incident happened in the ongoing 2020 edition of the Bangabandhu T20 Cup. Now, the cricketer has also been fined 25% of his match fees by the Bangladesh Cricket Board (BCB).
On Monday, Beximco Dhaka and Fortune Barishal were playing the Eliminator round of the Bangabandhu T20 Cup, 2020. Rahim's Dhaka team won by 9 runs and made it to the penultimate round of the league. However, the focal point of match remained his violent behaviour against a young player who remained calm throughout the incident and did not react with any gesture.
It was pretty clear that this was a big mistake from a player as senior as Mushfiqur Rahim. Whole of the cricketing fraternity and the fans took to social media to criticize this incident heavily.
The infamous episode took place in the 17th over of the second innings when Barishal needed 45 runs off 19 balls with five wickets in hand and Afif Hossain going strong with a half-century to his name.
On the last ball of the over, Afif tried to smack a boundary on the delivery by the left-arm pacer Shafiqul Islam. However, the ball touched the edge of the bat and was hanging in the air in the fine-leg region.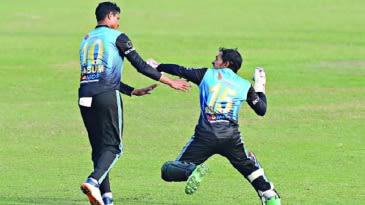 Both the wicketkeeper Rahim and fine-leg fielder Nasum Ahmed ran for the catch and were about to collide. However, Rahim managed to take the catch and there was no collision either. Despite sending the set batsman Afif back to the pavilion, Rahim looked visibly upset over Nasum and had almost hit him in anger for not hearing his call and running to take the catch.
Now, taking into account that the moment was tense but even then the reaction was totally uncalled for.
The Bangladesh Cricket Board has condemned the incident and added one Demerit point to Mushfiqur Rahim's account.