The Kolkata Knight Riders (KKR) had a perfect start to the second leg of the IPL 2021 after the break due to the pandemic. They comfortably defeated the defending champions Mumbai Indians after registering a massive victory over the Royal Challengers Bangalore.
The team did not really do well under their former skipper Dinesh Karthik in the last two seasons. However things look good for them this time around under captain Eoin Morgan who took over the team midway IPL 2020.
In both these matches, the attacking template which had been formerly indicated by head coach Brendon McCullum and skipper Morgan during their respective national team captaincy was visible. The World Cup-winning captain of England likes having certain people around him with whom he can   properly.
KKR's analyst Nathan Leamon Captured in Video With a Code Number
KKR has signed the England cricket team's analyst Nathan Leamon who teams up well with Morgan who has played a role in bringing Leamon to KKR. Together they have worked for the England white-ball teams having a lot of success in the recent past.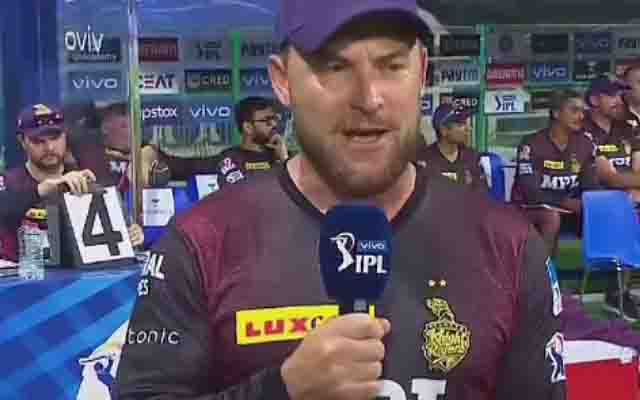 During the matches in the UAE leg, Leamon has been spotted several times having a pad on which a number is written. The font size of the number is large enough which can be viewed from the ground by Eoin Morgan. During the match between Kolkata and Mumbai, the commentators were having a chat with McCullum.
During this coverage, Leamon was seen displaying numbers to indicate something. While, it is not clear what was intended to be communicated, it is speculated that Morgan was getting some advise or two for the bowlers he can use in each over.
It seems the two have also devised a special technique in which there is communication between them during the matches.
— Jabjabavas (@jabjabavas) September 23, 2021