The very first edition of the ICC World Test Championship was a massive success as it managed to revive the love and excitement for Test Cricket in many.
The Kiwis emerged victorious in tournament as they beat Virat Kohli's Team India in the Final held in Southampton.
With the initial WTC ended, the focus is now on the second edition of the massive tournament, which got started with the recently-concluded England vs India 1st Test in Nottingham.
The final will take place in 2023. According to the format of WTC, each team will play 3 home series and 3 away series in this cycle. There's also a change in the points system. Instead of the entire series, points will be given on a match-by-match basis. Teams will be awarded a total of 12 points for each match they win in this cycle, six for a tie, four for a draw, and zero for a loss.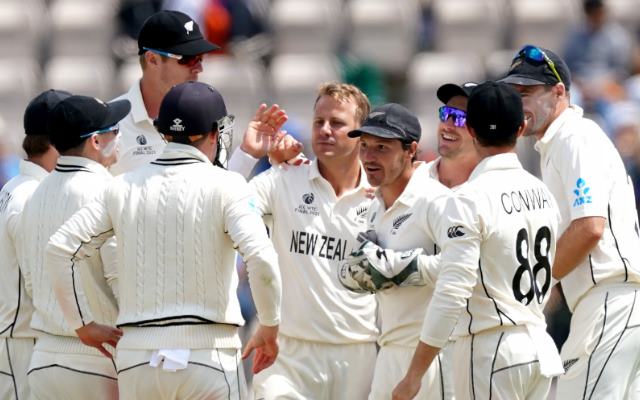 However, the percentage of points will continue to be the primary criteria for ranking. Hence, teams all over the world must gear up to make a mark in the second World Test Championship cycle. Powerhouses like New Zealand, India, and Australia are deemed favorites once again. However, with each team getting to play three home series, some upsets might also occur.
Meanwhile, here's the complete ICC World Test Championship Schedule.
England vs India
1st Test at Trent Bridge, Nottingham, August 4 – August 8
2nd Test at Lord's, London, August 12 – August 16
3rd Test at Headingley, Leeds, August 25- August 29
4th Test at Kennington Oval, London, September 2 – September 6
5th Test at Emirates Edgbaston, Birmingham, July 1 – July 5 '22 (rescheduled)
West Indies vs Pakistan
1st Test at Sabina Park, Jamaica, August 12 – August 16
2nd Test at Sabina Park, Jamaica, August 20 – August 24
India vs New Zealand
1st Test – November 2021
2nd Test – November 2021
Bangladesh vs Pakistan
1st Test – November 2021
2nd Test – November 2021
Bangladesh vs Sri Lanka
1st Test – December 2021
2nd Test – December 2021
Ashes 2021-22
1st Test at the Gabba, Brisbane, December 8- December 12
2nd Test at the Adelaide Oval, Adelaide, December 16-December 20
3rd Test at the MCG, Melbourne, 30 December 26– December 30
4th Test at the SCG, Sydney, January 5 – January 9
5th Test at the Optus Stadium, Perth, January 14 – January 18
New Zealand vs Bangladesh
1st Test – December 2021
2nd Test – January 2022
South Africa vs India
1st Test – December 2021
2nd Test – December 2021
3rd Test – January 2021
Pakistan vs Australia
1st Test – February 2022
2nd Test – February 2022
India vs Sri Lanka
1st Test – February 2022
2nd Test – February 2022
3rd Test – March 2022
West Indies vs England
1st Test – March 2022
2nd Test – March 2022
3rd Test – March 2022
South Africa vs Bangladesh
1st Test – March 2022
2nd Test – March 2022
West Indies vs Bangladesh
1st Test – June 2022
2nd Test – June 2022
England vs New Zealand
1st Test – June 2022
2nd Test – June 2022
3rd Test – June 2022
Pakistan vs England
1st Test – October 2022
2nd Test – October 2022
3rd Test – October 2022
India vs Australia
1st Test – October/ November 2022
2nd Test – October/ November 2022
3rd Test – October/ November 2022
4th Test – October/ November 2022
Bangladesh vs India
1st Test – November 2022
2nd Test – November 2022
Pakistan vs New Zealand
1st Test – November 2022
2nd Test – November 2022