29th of May was the day when the Tata IPL 2022 came to an end and it was a huge success as expected. More than a month of celebration of the sport and how!
Gujarat Titans won their maiden title in their very first season against the Rajasthan Royals at the Narendra Modi Stadium in Ahmedabad. It was a special night as the spectators gathered in numbers to witness the finals, and also the closing ceremony which featured top celebrities like Ranveer Singh and AR Rahman with mesmerizing performances on the big stage in Ahmedabad.
The prize money distribution ceremony was held after the finals and the players were rewarded with their cheques for various achievements throughout the tournament. However, BCCI Secretary Jay Shah accepted the importance of the curators and groundsmen throughout the IPL 2022 games and announced a prize money of INR 1.25 Crores for them covering all the six venues.
The money was divided on the basis of the workload as just two playoff games were held in Eden Gardens in Kolkata and Narendra Modi Stadium in Ahmedabad each and INR 12.5 Lakhs were rewarded for those games. On the other hand, the 25 Lakhs were rewarded to the curators and groundsmen of the other four venues that hosted the league stages.
We've witnessed some high octane games this season: BCCI secretary Jay Shah
The last time, the fans got to see a complete IPL tournament in the country was back in IPL 2019 as the Covid-19 pandemic had taken the tournament out of India. The ten-team tournament made IPL more interesting as well and it meant that the number of games increased over the duration of the tournament.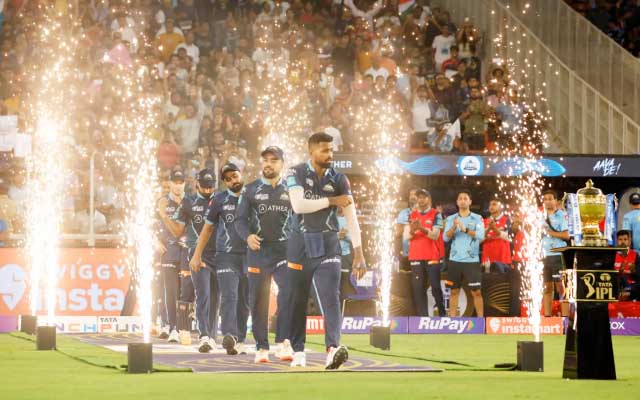 In a precautionary move, BCCI decided to conduct this year's IPL league stages in four venues inside Maharashtra which included the Brabourne Stadium, Wankhede Stadium, Dr. DY Patil Stadium, and MCA Stadium in Pune.
"I'm pleased to announce a prize money of INR 1.25 crores for the men who gave us the best games in #TATAIPL 2022. The unsung heroes – our curators and groundsmen across 6 IPL venues this season," Jay Shah tweeted.

"We've witnessed some high octane games and I would like (to) thank each one of them for their hard work. 25 lacs each for CCI, Wankhede, DY Patil and MCA, Pune. 12.5 lacs each for Eden and Narendra Modi stadium," he added in another tweet.